A Visit with Darrell Toney
by Julie S. Dobbins
Darrell Toney has been performing almost all of his life. Like many artists, he started when he was very young by singing in church. Unlike many artists, he has stayed true to his roots. For 14 years he was a member of the Southern Gospel group, The Renaissance. Even after the group broke up, Darrell remained active in music through performing, recording, producing, and writing. Two of his most recent accomplishments are his CD Jerry Reed... Revisited and a new CD of his sister, Debbie Egle.
When I first met Darrell Toney I felt like I had known him for years. Within the first five minutes, two things were apparent: he loves the Lord and he loves to laugh. Yet, everytime I'm around him I learn something new. Among his many talents is the gift of gab - which he put to good use when aswering my questions.
Note: Darrell's interview is actually longer than what is printed below. If you would like to read the full, uncut version just click here. You will leave the AGW website and will be taken to my blog. The extended version is full of even more good and enjoyable information.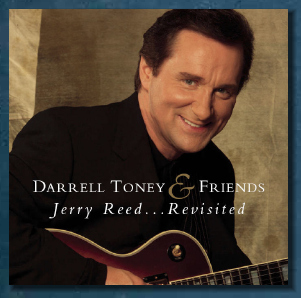 Your CD, Jerry Reed - Revisited, has been very well received. I read on one website that you played with Jerry and that you're a "Jerry-clone." What was your relationship with Jerry Reed?
I didn't know Jerry very well but remember in great detail the times I got to be around him. He was very charismatic, funny and of course an amazing talent! He was and still is my musical hero!
I'm glad that people have enjoyed the Jerry Reed…Revisited CD…it was a labor of love and a dream come true for me. When I finally decided I was going to do it, I was determined that it would have to be first class in every way or I wouldn't do it at all. There was an "energy" in those sessions that the players brought with them. After all, many of them were on Jerry's original recordings! My buddy Rodney Ingle co-produced it with me and we really put the hours in on it!
When people say I'm a Jerry clone, it's a high complement, but Jerry was one of a kind. Nobody plays Jerry better than Jerry! I am happy, though, that Jerry's tunes have been transcribed by Craig and John Knowles because it's important that we keep Jerry's great guitar catalog alive; what an amazing body of work!
Brent Mason is a good friend of yours, how did that friendship develop?
I first met Brent back in 1985. Buddy Greene and I had gone to lunch at a restaurant in Nashville and Brent came in. Buddy and Brent had just worked together on Buddy's first solo LP and Buddy introduced me. I would run into Brent at The Nashville Network or the Opry House from time to time but we really didn't become friends until we did the Reed tribute project together. We were both Jerry Reed fanatics and that was our common ground early on. We've done other sessions together and I always look forward to working with him because he not only has monstrous guitar chops, but he's also very down to earth.
How did you get hooked on Jerry Reed?
I was about 12 years old. My Dad heard Jerry on the radio and it just knocked him out! He kept telling me about Jerry and said he was real soulful and just a fantastic guitar player! One night Jerry was on television and Dad called me in to watch him; I was instantly hooked! I'd never seen or heard anything like Reed. What he was doing just didn't seem possible and yet there he was performing live on TV!
Well, I saved up my money and bought everything that was already released and patiently waited for the next LP. Fortunately, back in those days RCA put a new release out about every six months, which meant that I only had to wait a few months before I had my hands on some new Jerry Reed music. I remember the anticipation of opening that album and putting the needle down on that first song. I was never disappointed; it knocked me out every time. I was talking with Thom Bresh a few months ago and he told me that he experienced that same excitement after getting a new Reed LP! I guess most Jerry Reed fans felt that way, I know Craig did!
Being the Reed enthusiast that you are, have you been in search of a Baldwin guitar like Jerry used to play?
I've been in search of a Baldwin guitar like Jerry's since Harry Warner (Jerry's former manager) told me that's what he played. This was around 1977. I finally found one on ebay about a year ago and the added bonus was that it still had the Baldwin Prismatone pickup (which was the Reed sound). Paul Yandell was able to get the pickup breathing again for me and Mark Piper restored the guitar. It's a honey!
Paul said, "Well now that you have a Prismatone, they'll start falling out of the sky!" Less than a year later, Sam Kennedy down in Houston, TX recreated the Prismatone. It looks and sounds identical to the original! I put one on my new Clawmaster built by Mel McCullough.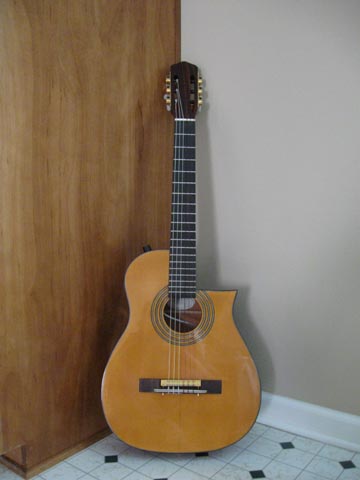 What's a Clawmaster?
It's a replica of Jerry Reed's famous chopped cutaway. I always thought that guitar was the coolest and I always dreamed of having one. Mel was able to basically re-create the guitar so all of us Reed fans could have one like Jerry's. I have 2 of them, one I keep in open G tuning and the other in standard tuning. Now that the Sam Kennedy Prismatone II has become available, it's an amazing re-creation!
Having been a member of the Gospel group, The Renaissance, and working for the Billy Graham Association, you only listen to Southern Gospel music - right?
Of course! Well not really. I love most styles of music. I cut my teeth on Southern Gospel Music. My dad (along with 3 of my uncles) formed the original Toney Brothers Quartet in 1955 shortly after my Uncle Alden left the Blackwood Brothers. The Toney Brothers, of course, were my biggest influence growing up.
Having southern roots, our family also enjoyed Country and Bluegrass. When my Dad was in the Navy, his home port was the Brooklyn Navy Yard. During his time in New York, he was exposed to a lot of Pop music of the 50s (The Ames Brothers, Sinatra, The Mills Brothers, Perry Como, etc.). He loved those beautiful melodies and lush string and horn arrangements, so we were exposed to that as well. But it was through Jerry's music that I was drawn into R&B, Jazz and Blues. When I was a teenager I was also influenced by Michael McDonald, Kenny Loggins, Natalie Cole, Toto, George Benson and many other pop acts of the era.
Our group (The Renaissance) was formed in 1973 and was fairly contemporary for the time, following in the footsteps of the Imperials. The group consisted of my sister Debbie, my cousin Greg, and myself. It was a wonderful opportunity to not only sing, but to spread the "good news" of the Gospel around the world.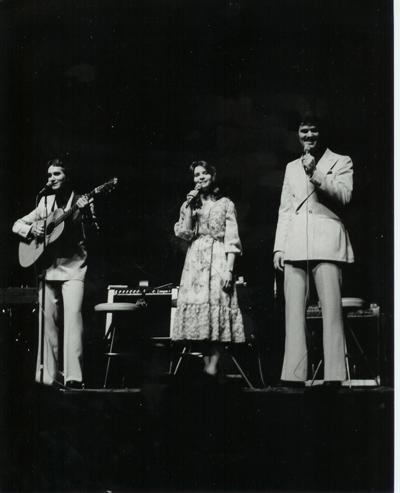 Are the lyrics to the The Renaissance songs available anywhere?
Yes, some of them are out there on the Internet. We recently re-released some of the old LPs on CD and are making them available on the website. It's amazing after all these years to hear from people that followed our group and want the old records on CD. We tried our best to make music that would stand the test of time, but we knew the message contained in those LPs would definitely endure because it was the Gospel of the Lord Jesus Christ! Jesus said, "I am the same yesterday, today and tomorrow." I'm grateful for that!
How many songs have you written?
I guess I've written about 100. I have some friends that write 100 songs in a year, but those are the guys that live and breathe writing. I only write when I'm inspired.
There are rumors that you have traveled and performed with The Booth Brothers. How did that come about?
Yes! The Booth Brothers (Ronnie and Michael Booth and Jim Brady) are great buddies of mine. I go out on the road with them from time to time. It's a dream to perform with them because those boys can flat sing! Ronnie and Michael's Dad, Ron Booth, Sr. sang with my dad in the Toney Brothers during the 1960s. Our families go back at least three generations. They are the real deal and believe what they sing about. I'm proud of them because they are one of the top groups in all of Southern Gospel Music and stand firm in their faith using their music to proclaim the Gospel (literally world wide). I was in Manila a few years ago and flipped on the TV and there were the Booth Brothers singing the great André Crouch song "Through It All." If you have an opportunity to see them in concert, don't miss out…they're terrific! Tell 'em I sent you!
Do you do any concerts of your own?
I do concerts now and then but I'm working mostly in the studio producing and recording. I love it!
What do you think of that Craig Dobbins guy?
Are you kidding? Craig is so talented! It's amazing how he takes these complicated guitar instrumentals and transcribes them. I remember the first time I heard of Craig, I was in a music store in Nashville and saw the book "The Guitar Style Of Jerry Reed". I grabbed that thing and started leafing through it. I knew that book was going home with me! I learned some great Reed techniques from it!
Craig is not only a wonderful teacher, he's also an excellent guitarist. Whenever I have a question about a Reed or a Chet tune, I call Craig! A couple of years ago Brent Mason asked me about the tuning on Reed's "Tupelo Mississippi Flash." I told him, "I don't know, but I know who does!" I called Craig…he knew! I have really appreciated his friendship these last few years.
In most of the pictures I have seen of you with an instrument, you are holding an acoustic guitar. Do you play anything else?
Yes, I play electric as well. I have a Tele, Strat, Les Paul and a couple of basses. I'm pretty comfortable in the studio with those but I recall Mark Casstevens talking about how much finesse it takes to really burn up an electric guitar. He's right! I much prefer the gut string. All I ever wanted to do on guitar was play like Reed anyway.
Since you are a vocalist as well as a guitarist, will you be releasing a CD of Reed's songs (as opposed to instrumentals)?
I'd like to do a follow-up CD of Jerry's tunes. I would probably do some vocals as well as instrumentals. I know I won't be hurting for material because Jerry's catalog is so deep!
Any word of advice for someone entering the music business?
I guess every performer is asked this question, probably because it's a good one. I guess it's important to have something to fall back on. The majority of people that pursue music as a full time career wind up with the short end of the stick.
Back in 1986, Buddy Greene, Ric McClure and I were on Jerry's bus up at Twitty City in Hendersonville, TN. Jerry was encouraging me to keep pickin'. Then he got a real serious look on his face and said, "Son, my advice for you is to go up to Kentucky and buy a lottery ticket. At least then you'll have another equal chance of hitting it big!" Buddy and Ric busted out laughing and said, "Now there's some real encouragement!" With a twinkle in his eye Jerry laughed and said, "Now son, I just said that to get your attention. The truth is, when I came to Nashville, all you had to be was good, son! You got an opportunity. It's different today; you have to have the right manager, financial backer, the right attorney, etc. I feel sorry for the kids coming up today."
It's OK to pursue your dreams, but get an education and have a good back-up plan. Most people wind up using that back-up plan. When you're in the music business, after every gig…you're unemployed!
You've been in the music business a long time in a variety of ways. What all have you done?
Well I mentioned The Renaissance, we were together for 14 years. It was a great time in my life. I've written songs, played sessions (both as a vocalist and a guitarist), produced, engineered, the work can be very rewarding!
What has been the high point of your career so far? (Besides meeting Craig Dobbins, of course.)
I can't say there was one high point; there have been many. Doing the Jerry Reed tribute CD certainly was one. I got to know some great guys like Paul Yandell, Thom Bresh, Brent Mason, Dave Hungate, Richard Smith…Craig Dobbins. They're all so good that playing around them can only make you better! It really stretched me as a player.
The years I was blessed to sing Gospel music are the most precious to me because that's Kingdom work, it's eternal.
What has been the biggest challenge for you in the music business?
Not compromising my convictions. When I gave my life to Christ, I meant it! The musical ability I posses is a gift from God and I always want to honor Him with it!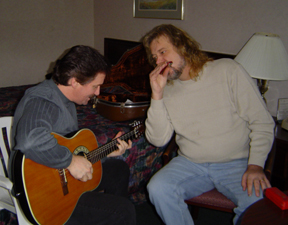 Tell me about Terry McMillan, I know you guys were close.
Terry was a great friend of mine . . . he was a gentle giant! We first met at a Reed show in 1975 when I was about 16 and Terry was about 20. I would run into him here and there over the next 20 years, but we got really close after doing the Reed tribute CD. He enjoyed that project so much, he loved Jerry. After those sessions I guess we talked about every week. He was living up in Pigeon Forge and would go back and forth to Nashville to do sessions. Whenever I was up in the Smokies, I'd stop by and see him. I always loved that time together because we'd get to jam. Man he had soul!
He was truly a gifted musician. He gave Chet and Jerry the credit for helping him achieve his potential. They were always pushing him and he took the challenge and kept getting better throughout his life. That's what the true greats do. When Terry passed it was a great personal loss for me and the industry lost another phenomenal talent. Brent Mason told me, "There will never be another Terry McMillan!" I know that he knew Christ and was prepared to go. I know I'll see him again…that's a comfort!
You are currently working on producing a project on your sister Debbie. Tell me about that.
Yes, I'm producing a project on her; we've been working for about 3 months now. We've had such a great time making music together again! She was part of The Renaissance so the music we made together back then was arranged for a group. This is her first solo project. She has always had a great voice, even as a child. When you hear Brenda Lee at 12, she sounded like an adult. Debbie was that way. She would open up her mouth and people would do a double take! It was remarkable.
It has been so much fun hearing her demonstrate her vocal range and musical diversity. She's written about 6 of the tunes on the CD and I co-wrote one with her. We had a ball in the studio tracking with Brent Mason, David Hungate, John Hobbs, Ric McClure, and Kerry Marx. What a band! The music is kind of retro pop, light jazz and even a little R&B. The lyrics of the tunes are gospel, which has always been our passion! It should be released some time this fall and will be available on the website, iTunes, and CD Baby.
You produced the Jerry Reed Tribute at The Chet Atkins Appreciation Society this past July. How did that come about?
Well Mark Pritcher (the President of CAAS) called me and asked if I would consider producing a tribute to Jerry during CAAS 09. I was honored and quickly agreed to do it.
I knew the show would be a slam-dunk because the caliber of the guitarists that perform at CAAS are world class! Then the quality, diversity and depth of Jerry's catalog ensured success! One element that I was particularly pleased with was assembling some of the Jerry Reed band alumni (Kenny Penny, Buddy Greene, Kerry Marx, Roy Vogt and Steve Davidowski) to play as the house band. They brought such authenticity to the night!
The best part of the night, though, was that Jerry's wife and daughter, Miss Prissy and Seidina, came out and allowed us to pour a lot of love out to them. They told me after the show how much it had meant to them. That really made it worth it all! I loved it when Mark Pritcher took the mic at the end of the show and said, "Tonight, we have seen the embodiment of "A Thing Called Love." We all loved Jerry and won't ever forget him. So now I think I'm gonna go in my studio with one of Craig's TABs books and learn a new Reed tune!! Son!
Copyright © 2009 by Julie S. Dobbins.
Visit Darrell Toney's website.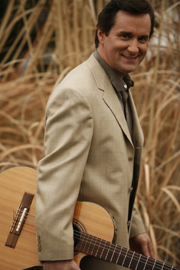 ---