A Visit with Mark Casstevens
by Julie S. Dobbins
As a multi-instrumentalist specializing in acoustic guitar, Mark Casstevens has accompanied over 250 recording artists in Nashville studio sessions. He has been featured in articles in Guitar Player, Acoustic Guitar, Fingerstyle Guitar, People, Musician, Frets, and Mix magazines. Mark's playing also stands well on its own, as demonstrated on his exceptional CD of original fingerstyle guitar instrumentals, Acoustic Inventions. Pleasant and easy-going, he recently took the time to answer a few questions for Craig's website.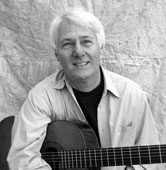 Why did you decide to become a studio musician?
Tape recorders and recorded music have always held a fascination for me . . . People have tried unsuccessfully to explain the physics involved in digital recording -- which I find no less mysterious than how musical notes go into a mic then onto tape then onto record grooves and magically back through speakers . . . truly one of the greatest inventions of all time. In looking back, it seems I was playing with tape recorders and listening to albums and picking out the different instruments when stereo came along. The great folk scare of the 60's came along and I traded the piano for a banjo and a guitar . . . in time I was learning parts from the Peter, Paul and Mary records.
In the late 1960's I began reading the backs of lps when the idea of listing personnel came into fashion. My next door neighbor (Ft. Worth, Texas) called me over to meet a duo who had just recorded an album in Nashville for Columbia Records. There was the opportunity to talk with someone who recorded with the players whose work I knew. Since most of my musical education came from playing along with albums, it was only natural to wonder if my career path could ever include being a studio player. When I stepped into Columbia studios in Nashville on a visit, I saw firsthand these specialized players who went from studio to studio and got to go home and sleep in their own beds. It was a very appealing notion to get paid for doing your hobby so a goal was set.

Is there anything about your job that you would change?
The job itself changes constantly since a free lance player is always involved in different projects with different players.

Do you have any formal music training?

Piano lessons age six to about twelve. I quit because of the anxiety of playing recitals. I didn't like the idea of having to perform something perfectly . . . so I decided to become a studio musician. Go figure.

My husband has a Bachelors Degree in Secondary Education, so of course he's a musician. Do you have a college degree?
I have a BA in English from the University of Texas at Austin. Somewhere in the attic there is a diploma. I have dreams of opening up a little English Shoppe in the mall . . . for a fee I will compare and contrast Hawthorne and Melville.

Chet Atkins was once asked what advice he would give to anyone who wanted to become a professional guitarist. His response was to marry a woman with a good job. What advice would you give to someone who wants to become a studio musician?

Chet's other advice was to "save your old neckties" . . . they would eventually come back into fashion . . . Sadly, I would tell someone who wants to become a studio musician to find a time machine and go back to when it was a viable career. I just got lucky in my timing. The complexion and economic structure of the commercial music business in all three recording centers does not resemble what it was forty years ago. There is so much less recording activity today at all levels as labels have merged and artist rosters have been cut. Digital recording and attendant downloading and home studios all play into the change. When I moved to Nashville there were countless studios recording song demos, master sessions, jingles, etc. The talent pool was very deep and studios were constantly booked three or four sessions a day . . . The Nashville Network launched a satellite and there was lots of programming involving studio musicians. A player could work into sessions and supplement studio income by working at Opryland theme park, touring with a recording artist, playing clubs, etc. The park is gone, the Nashville Network is no more, an artist is off the label if they don't bring big numbers in sales -- odds are not in favor of a player coming to Nashville, at least, to build a long solid career as a studio musician. It would take tremendous perseverance and an unusually gifted player to distinguish himself/herself in this climate. I would hope that the person seeking my advice is such a person and that he/she might be half as lucky as I have been. It has been a dream job -- one of the main benefits of studio work is having instant gratification hearing your playing in state of the art studios with the finest other musicians in the world.

Do you have any special musical influences besides Chet and Jerry?
Yes, all across the board -- in no particular order -- George Gershwin, barbershop, Jobim, Gilberto, bossa nova, Laurindo Almeida, Al Jarreau, Gilbert & Sullivan, James Taylor, Samuel Barber, Ry Cooder, Rogers and Hammerstein, Randy Newman, Pavorotti, Joshua Bell, Scott Joplin, Toots Thielmann, Dave Grusin, Dr. John, Leonard Bernstein, Flatt & Scruggs, Stravinsky, Bach, Mike Snider -- anything that has that obvious spark of artistry and originality.
What do you think of that Craig Dobbins guy?
He's too tall. But one of those musicians you instantly like. It comes through in his playing. I'm glad he didn't come to Nashville and shove me out on the streets. When I first saw his Jerry Reed transcriptions it was like I had discovered a kindred spirit and one with enough gumption to put it on paper. I remember sending him some stupid correction of sixteenth note # 3,457 of "Stump Water"-- and felt bad about being such a ninny for quite a while after that. He had captured the spirit and intent of Reed's clawing where I was focused on the minutia. (I can't tell you how many times others have shown me how I learned Reed tunes wrong.) But Craig forgave my picking of the nits and I am always entertained when I see or hear him play.
If you had not moved to Nashville, what do you think you would be doing?
Most likely something to do with music . . . or perhaps it would just be a lifelong hobby. Maybe a woodworker . . . my father passed that on to me and getting involved in building something is a wonderful place. I might have gone back to school to become a teacher of something . . . maybe art.

Who has had the most personal influence in your life?
Couldn't pick one person . . . it has been a process and from my parents, teachers, friends. I have never been held back -- always encouraged. I could not have integrated into the Nashville music scene without a positive sense of self instilled by all my influences . . . the creative community here in Nashville has always been energizing and challenging and humbling. Actually many of my closer friends are not musicians -- their wit and intelligence has been valuable. One never stops learning -- be it how to play music better or how to behave and how to view the world. And laugh.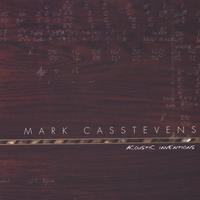 Your album, Acoustic Inventions, is beautifully done. What was it like for you to record you own CD and have complete artistic control?
Thanks. I am pretty sick of the album, but for the most part was satisfied with the results.
I spent my life in recording studios -- so some of it came together fairly quickly. Playing solo instrumental things had been a closet enterprise for about 33 years -- people kept pestering me to do more than rough cassettes of my tunes, so I gave in. We call them vanity albums in Nashville.
It dawned on me that I should at the very least document where I was, musically, in 2004 for my grandchildren to hear someday. One never knows when they might befall them in this day and age. Having played in the background all my career, I decided to get decent versions of my compositions down . . . more than declaring myself some guitar soloist . . . I rarely perform live. Complete artistic control turns out to be a double edged sword . . . your ideas aren't overridden when they are less than great . . . I played the roughs for a friend who pointed out that one song was too long -- should be two songs . . . so "Swing Low Sweet Chariot" was taken off the front of "Underground Railroad" and made a separate piece . . . probably needed more outside advice . . . but you throw your darts and hopefully a high percentage hit the target. Playing most of the instruments is both narcissistic and economical.....mostly it was a throwback to the early years and experimenting with tape recorders. There are many things at which I cringe when hearing the CD -- I needed to hire a string arranger. I needed someone to tell me what to leave out and when it sounds too thought out. The irony of my record is that I have spent my life in rhythm sections where everyone contributes their own part -- but most of my CD was premeditated . . . with malice aforethought.

Will there be more CDs?
Doubtful but who knows? I have four new pieces that sound like music. Quick, tell me the name of the last major instrumental hit? See . . .

Is there anyone you wish could have joined you on this project?
Yes, I regret not doing this while Chet was with us. I can hear his touch on Del Vecchio on "Coming Home" -- I no doubt would have hired a string arranger to score it. But I was too immersed in studio work and too short sighted to recognize the opportunity when it was there.

Claire and Tracy are your daughters, but who is Katrin?
My mother is Kathryn but the name came from a Katrin Eismann who is a Photoshop expert. I needed a name that was ethnic but not familiar or connotative of something else and went through many before looking up on the shelf and seeing her name on the spine of a Photo retouching book. I do not know the woman but did email her that I used her name. So far, no lawsuits.

Katrin's Dream is a wonderful mix of moods. What is the story behind it?
Funny you should ask since the last two pieces on the CD were ones I sometimes think should have not been included. A year or so before I did the CD, I was called in to be the point man on an Andy Griffith Christmas album. Andy had two spoken word pieces that needed underscores so I wrote music timed out and tailored to fit his reading of this story he has wanted to do for years -- "Barnaby the Juggler"-- (I also adapted "Coming Home" as an underscore for the title cut "The Christmas Guest") . . . to make a long story short, both of my pieces were recorded with strings and woodwinds, then shelved. Andy wanted more of a Prokofiev "Peter and the Wolf" treatment we eventually deduced. So my Barnaby underscore was re recorded for my project. The opening theme is a variation of a folk song Leon Bibb recorded in the 60's "I Know Where I'm Going" -- the guitar part on the record was one I finally found a place to use after 38 years! The moods in the piece reflect what was going on in Andy's story . . . To fit what my recording might theoretically underscore, I later wrote an alternate children's story line that described a little generic European girl (Katrin) who falls asleep and has this dream. No green blankets in this particular story.

I noticed that Tracy Casstevens did the graphic design for your CD. What was it like to work with your daughter on a project?
Both of my daughters are artistically inclined. Claire (high school senior) just won a national gold key in the Scholastic Art & Writing competition -- presentation at Carnegie Hall, work will be installed in a DC gallery. . . . Tracy also has her work featured in professional graphics journals -- her degree in Studio Art is from Indiana University and she did a two year program in Atlanta at The Creative Circus . . . she works for a graphic design firm in Las Vegas at the present and was so helpful in the artwork and concept. She was in North Carolina and did everything pretty much long distance when the CD was assembled. The back of a Brazilian rosewood guitar was photographed for the booklet background, she took some chord number charts from the album sessions and worked them into the mix --(formulas for the inventions?) and did all the rest. I doubt we were the first to use a guitar soundhole graphic for the CD tray -- I have certainly seen several on albums that have been released since then. Tracy has a great eye and has received continued kudos from top graphic professionals and I would imagine she might break off on her own in a possible venture specializing in custom wedding graphic design work. The invitation she conceived for her own wedding last October was this thin box that turns into a bird cage with the thematic bluebird holding the invitation scroll, etc. You get the idea . . . my girls are amazing. The tune "Tracy" on the CD, by the way, was written in 1978 when she was born.
I have often heard that spouses shouldn't work on a project together, but Craig and I have enjoyed the times we have worked together.
My wife Esther took the photo on the back . . .

Is there anything you have always wanted to say in an interview, but have never been asked?
It is embarrassing to wax on about yourself . . . Chet did say, however, that he found nothing quite as interesting as someone's life story . . . John McClellan came to my house to do an extensive interview for another Chet book and after a while I started to weary hearing me talk about myself . . . in terms of music I am but a minor player who has had the good fortune to rub shoulders with those who cast much longer shadows . . . a very much blessed person who was at the right place at the right time. Granted, my work ethic is intense, but luck has definitely been with me all of my life.
Copyright © 2008 by Julie S. Dobbins.
Visit Mark Casstevens' website.
---