A Visit with Guy Van Duser
by Julie S. Dobbins
To some guitarists, Guy Van Duser is known only as "that guy who arranged Stars and Stripes Forever for Chet," but he is much more than that- a respected stylist, arranger, artist, and educator. One of Guy's career highlights was in 1986, when he and clarinetist Billy Novick "subbed" for the Boston Pops Orchestra (playing Stars and Stripes Forever, of course) at their annual Fouth of July concert. (The Pops had a little gig to play at the unveiling of the refurbished Statue of Liberty in New York.)
Guy's distinctive guitar playing (accompanied by Billy Novick) is regularly heard on This Old House and Antiques Roadshow. To those who have had the privilege of hearing him in concert, he also is known for his enjoyable sense of humor. Guy graciously agreed to let me interview him and give a broader perspective of his talents.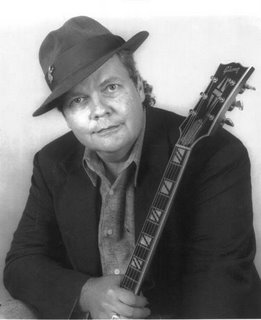 Mr. Van Duzle, sir, did you ever consider any other career?
Guitar is my love, of course, but my careers have actually been in commercial art and in elementary school teaching. I have been working for Disney's World of English for the last eighteen years as a sound editor and sound effects technician, and now have just begun an association with Berklee College as a Professor of Music. My guitar playing has at least kept me sane through the years, though.
You and clarinetist Billy Novick have been playing together since 1976. How did the two of you get started performing together?
Billy and I met at a modern dance concert in 1975, where we each had written a live performance piece for the choreographers. We hit it off right away, but Billy was playing in three other bands at that time, so he was too busy to follow up on our first meeting. About six months later one of his bands broke up, and Billy called to see if I was still around, and we started rehearsing for our first gig, an afternoon radio show broadcast live from Club Passim in Cambridge, MA. We've been playing together steadily ever since.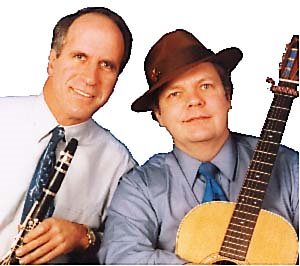 Chet turned down several offers from Garrison Keillor to play on A Prairie Home Companion - until he found out what it was all about. Then he seemed to really enjoy it. What was your experience with playing on that show?
Billy and I did the PHC show a half dozen times in the 1980's, which was fun at first, but eventually became very high pressured as Garrison became more and more famous. We knew Garrison Keillor very early on, though, when he was doing his daily morning show in Minneapolis. He wrote the liner notes for my second Rounder Records LP with Billy (long out of print and unavailable). Incidentally, the story of Chet going on PHC hinges around me a bit; Chet phoned me one afternoon and asked me if I could get him onto the show, as his road manager George Lunn had tried unsuccessfully to get him through to Garrison's agents. I told Garrison this, and he invited me out to lunch and interviewed me for about two hours on everything I could tell him about Chet, after which Chet was invited to come on a broadcast. So I feel like I contributed a little to Garrison and Chet's friendship. Who knows?
I have read that your first instrument was actually an accordion. You still have your first guitar, but what was the fate of your first accordion?
I have heard from my Dad, who says that accordion was traded in for my first guitar. Actually, my first instrument was the piano. My mother was trained at Eastman School of music for the concert stage, but my own piano lessons (when I was five) didn't 'take'. The accordion didn't work out, partly because I didn't really love it, and partly because the family cocker spaniel didn't really love it either (he would howl incessantly whenever I practiced). Later, when my Dad took up the guitar so there was one in the house, my passion for the instrument began. But I played with a pick for the first three years, as I didn't know about Chet at that time.
Do you ever modify your guitars?
Yeah, once in a while. I refinished my dot neck 335 after I had played it in my high school rock band until it was pretty beat up; having no idea of course that I was destroying its value as far as today's collectors are concerned.
Craig still has his first guitar and sometimes thinks about having it restored because he "modified" it a few times.
But who knew back then that vintage guitars would become more valuable as time went on? Now I wish I had it (the 335) back! I don't fool with the electronics in my guitars very much; I find guitars that I like the sound of to start with and that's pretty much it.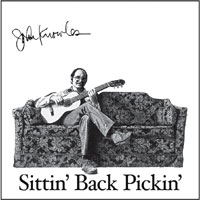 You did a beautiful job on the artwork for the cover of John Knowles' album, Sittin' Back Pickin'. What was the technique that you used?
John was very nervous about telling me that he had reupholstered that sofa, after I put all that work into his cover portrait. That's good old Higgins India ink and an old-fashioned pen nib. But the original is considerably larger than album size, to allow for all that intricate cross hatch work on the sofa. I always did like detail work. That goes for practicing guitar, too, of course.
Do you still do artwork?
When I have time, which is not very often. The kind of art I enjoy doing is pretty labor-intensive. I think the last thing I drew seriously was the portrait of Chet that appeared on the CAAS program back in 2001 after Chet's passing.
Tell me about the educational programs that you and Nikki Hu have been doing.
We work regularly in different elementary schools in Massachusetts and New England, teaching entire classes or grades of children to learn choreography and give performances in their schools for peers, and often for the community at large. I provide original music, written and performed on live instruments and synthesizers and Nikki designs the movements and stages the dances. Our pieces are built around folk tales or school curriculum (a grade studying insects or Egypt can become involved in creating dance movements that help internalize the subject matter). Our work is essentially non-verbal, so we offer an opportunity for children to excel outside of their spoken language classroom situations. We've been at this for twenty-five years, and we love it.
Have there been any particularly memorable moments working with children?
Oh, too many to even begin to tell about. One of our biggest accomplishments, I think, was taking fifty American school children on a ten day field trip to Hiroshima, Japan, to present Nikki's "Dance of a Thousand Cranes" at the 50th commemoration of the dropping of the first atomic bomb on that city, by invitation of their Mayor. It was an honor and a thrill to help American children bring the gift of their good will to the Japanese!
You told me about the program where the kids brought their pets on stage - one of which was an incontinent pony, I think.
It was actually an incontinent baby goat, but the results were not dissimilar! The principal of the elementary school, no less, was on hand with the paper towels . . .
What do you think of that Craig Dobbins guy?
He's okay, really. His guitar transcriptions are accurate, at least the ones I've seen, and that's a big plus in my book. I hear he plays pretty well, too, although it's hard to catch him at it, at least around CAAS.
Is there any special reason why there is no guyvanduser.com?
Well, I don't seem to get around to it. I don't have much to sell at the moment, really, nor do I tour, so there's not much schedule to announce. But I should try to get one up sometime soon. You can always go to www.billynovick.com and find out what we're up to as a duo, and I guess I pretty much rely on that.

What is the story behind "Poor Jack?"
"Poor Jack Studios", my writing studio for Disney, was named after our German shepherd/husky, whom I put outside one day while I was doing live sound effects recording (no soundproofing back then) and then forgot, becoming engrossed in my deadline, until I suddenly realized that it had begun to pour rain and he was out there sitting in it, waiting to come in. The bedraggled soul who greeted me reproachfully when I opened the door was a heartbreaker . . . so I named the studio "Poor Jack" to ease my conscience. He did look great on the logo with a reel of recording tape in his mouth!
Is it true that you like the movie "High Noon" with Gary Cooper?
Love it; seen it at least twenty times. Dimitri Tiomkin's score for the picture is my favorite soundtrack of all time!
Of all the CDs that you have recorded, do you have one project that is your favorite?
Not really . . . "Stride Guitar" was the most difficult project for me to record, I think. All of the arrangements on that record were part of my stage show at one time or another, but I always made mistakes while performing them, because they were so darn hard. Going into the studio meant really getting them right for the record, so it's probably the most intense practicing I've ever done. I can still play some of the arrangements, and I've met other players who value them enough to learn how to play them, which is always very gratifying to me.
How about a chicken joke?
Hmmn . . . I promised my producer that I would quit telling chicken jokes, but maybe he won't read this: So, why did the chicken cross the road? Because it was too long to go around. (That's an original, as you might have guessed . . . )
Are you tired of these questions yet?
Umm . . . yup!
Copyright © 2008 by Julie S. Dobbins.
---