Fingerpicking Gospel Solos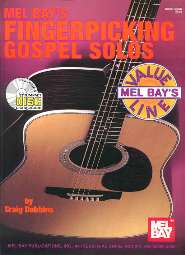 From Mel Bay Publications
Complete note-for-note transcriptions to five great gospel songs from the Psalms, Hymns, and Spiritual Songs CD, plus Wayfaring Stranger.
Includes: Glory to His Name; Come Thou Fount; Wayfaring Stranger; Love Lifted Me; When We All Get to Heaven; Must Jesus Bear the Cross Alone.
In notation and tab, with performance tips, background notes, and chord diagrams. 32 pages, CD included.
"I just purchased one of your books, Fingerpicking Gospel Solos, and I find these arrangements accessible and clear and FUN to play!"

- B.A.
---
Fingerpicking Gospel Solos book/CD set:
This book/CD set is out of print. However, you'll find all of these tunes in the AGW archive.
---