Fingerpickin' Guitar Solos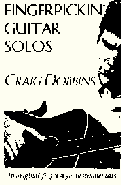 From Acoustic Guitar Workshop

Ten original fingerstyle instrumentals by Craig, including:
That's My Boy; Streetwise; Julie; Chester; The Wavular Sidestep; Hang Loose; Once Again; The Ballad of Fred Smith; Through the Tears; The Crawl.
Cassette with sprial-bound book. Includes transcriptions in notation and tab, and performance notes for each tune.
---
Fingerpickin' Guitar Solos book/cassette set:
This book/cassette is out of print. However, you'll find all of these tunes and more in the Fingerpickin' enhanced CD.
---