Down Home Picking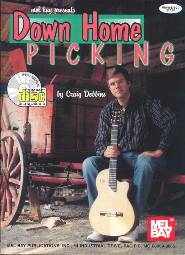 From Mel Bay Publications
Twelve fingerpicking originals by Craig, featuring tunes dedicated to Chet Atkins, Merle Travis, Jerry Reed, Paul Yandell, and Marcel Dadi. Each tune is transcribed in standard notation and tablature, with performance notes and chord diagrams.
Also includes photos of the featured guitarists, a selected discography for further listening, and an introduction by Paul Yandell. 72 pages, CD included.
Includes: That's My Boy; Walkin' Shoes; Chester (dedicated to Chet Atkins); Hang Loose (dedicated to Jerry Reed); The Wavular Sidestep; au Contraire (dedicated to Marcel Dadi); The Ballad of Fred Smith; Just Takin' My Time (dedicated to Paul Yandell); Summer Walks; The Crawl; Are You Washed in the Blood?; Headin' Home (dedicated to Merle Travis).
"With his new book, Craig Dobbins makes a fine contribution to the art of fingerstyle guitar playing. I know you will enjoy it."

- Paul Yandell
---
Down Home Picking book/CD set:
This book/CD set is out of print. However, you'll find all of these tunes and more in the Fingerpickin' enhanced CD.
---